Most Popular Jeep Accessories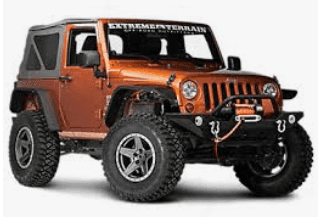 Is your Jeep too plain? Is it too vanilla and boring? Do you want to try out Jeep accessories but don't know where and how to start? Then no worries! We are here to provide you with information regarding the most popular Jeep accessories today and how you can incorporate them into your Jeep. Read on as we help you transform your boring, old Jeep into that dream Jeep you always wanted to drive. Follow our guide and you will surely feel the thrill and excitement of driving your Jeep like it's the first time.
What are Jeep Accessories?
Just like car accessories, Jeep accessories are goods that you can use to adorn your Jeep for aesthetic and practical purposes. A Jeep driver can use Jeep accessories to upgrade or add some flare to their otherwise plain Jeep. Although it is not necessary for a Jeep to have accessories, it can get boring if there's nothing new on it. Consider this a reward for your Jeep.
Most Popular Jeep Accessories
Here are the most popular and must have Jeep accessories to upgrade your Jeep into the one you have always wanted to drive:
Wheels and Tires
Even though Jeeps are typically built higher than SUVs, their wheels and tires are still not equipped with the right power to survive in an all-terrain condition. Before going off road with your Jeep like you want to, make sure that your wheels are indeed conditioned to handle situations like these. Here are some things you want to upgrade before going off road:
Wheels that are all terrain or are meant for going off road
Sipes should also be considered since they are effective in clearing sand, snow, and mud. They are also meant for driving on icy roads.
Tires that have an open chamber pattern to clear mud.
Looking for Jeep seat covers? Click here to shop now.
Lighting Accessories
You know what they say: the fun starts when the sun goes down. Use lighting accessories to light up whenever you are driving at night. This is a popular choice for Jeep owners because of its design and practicality. It's pretty useful for every Jeep owner there is. Plus, with the widespread availability of LED lighting, Jeep owners have much better access to lighting opportunities.
Fenders
Aside from being an aesthetic upgrade, fenders can help protect the upgraded tires you are using.
Bumpers
The bumpers originally included with your Jeep are plain, boring, and are not as durable as you think. Upgrading your stock bumper into something more useful is recommended. Replacement bumpers are more durable and more stylish than stock bumpers.
We hope you learned a lot from what we mentioned. Now that winter is here, your Jeep is much more prone to accidents. Upgrade your Jeep now and use this information to your advantage.
Looking for winter Jeep accessories? Click here to shop now.