Jeep of the Week: 2018 JEEP WRANGLER JK GOLDEN EAGLE 4WD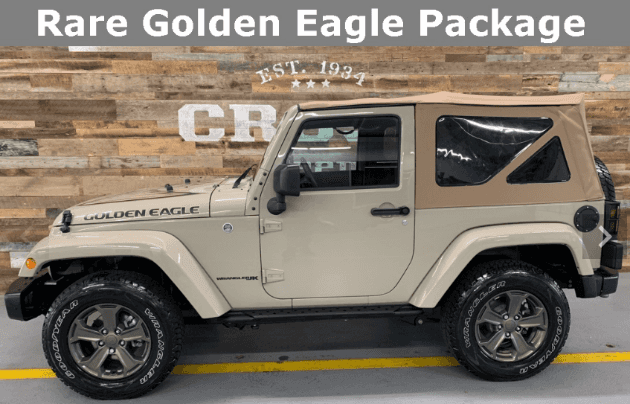 This edition of the Wrangler has quite a few nods to the special edition Golden Eagle packages and the CJ5 and the CJ7 styles the manufacturer did for years. Of course, the golden eagle on the hood is the main focus as you approach the vehicle. You'll notice that this version also has elements of the Sahara and the Rubicon built into it (for example, it has a Rubicon steel front bumper), which makes for a truly unique package.
Up front, you'll notice the tow hook inserts for their seven slot grill, as well as the Jeep logo on the front end. Another unique feature is the aftermarket headlamp guards. Coming down the side is an enhanced steel rock rail to round out the balance of the body.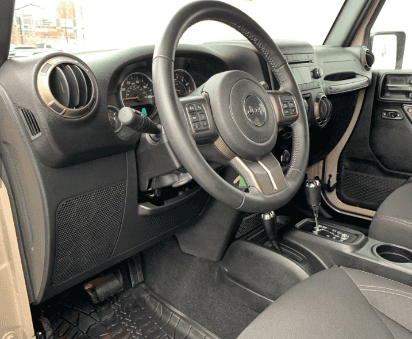 The differentiating bronze accents throughout really make it a stand-out vehicle. The bronze accent continues on through the wheels (where you'll see it has been fitted with an 80 tire, and not a standard street tire). Even the interior is a continuation of the bronze accents, including the steering wheel and doors, and even the vents also have bronze ring accents. The seats are stamped with the signature golden eagle logo.
The premium soft top is a definitive upgrade from the regular soft top material. It has been dyed tan, which definitely completes the style of the rugged exterior. Coming down the backside, the tail lamp guards match the ones on the headlights. And the steel real bumper matches the front one as well. It is finished with a bronze tow hook in the rear.
Ready for a test drive? Call us at 502.459.9900 or contact us by clicking here. Subscribe to our YouTube page so you don't miss any Jeep of the Week videos, and check us out on Facebook as well. You can also check out our complete inventory by clicking here.