2021 Jeep Wrangler Rubicon Sky Power Top EcoDiesel
I began working with Jeeps in 2001 after 3 years in a Ford dealership.  I quickly discovered Jeep Wranglers were a lot different! I'll never forget my first day getting acquainted with Wranglers while dissecting the intricacies and nuances I've come to love over the years.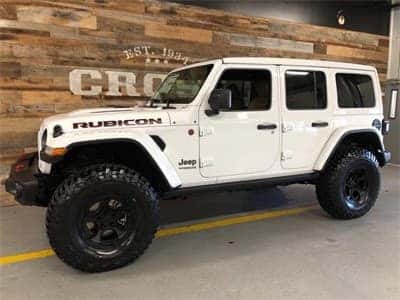 The first obvious nuance being Jeep Wranglers were 4 cylinder with no air conditioning. The earliest Jeep Wrangler models did not come with air conditioning as standard up until 1986 when the first Wrangler, the YJ, came with A/C as an option. Fast forward to now and you still have the option to have your Jeep Wrangler with or without air conditioning.
The second was that we had the ugliest wrangler in stock. Most of you don't remember the "J Cruiser" conversion which practically swapped out the whole front end for a unique Hummer H1 front clip. At the time, the MSRP was 30k new! 
Fast forward 20 years and it's safe to say the Jeep Wrangler has come a long way. Today I'm enjoying a 2021 "JL" Jeep Wrangler Rubicon fully loaded with every available option. 
Let's take a look at some of the standout features.
Jeep SKY Power Convertible Hardtop
This feature is my favorite and a lot of Jeep enthusiasts can relate. It takes 19 seconds to open and 19 to close all with the touch of a button.Though indeed a pricey upgrade, it's better than both the Sunrider soft top and Freedom hard top. Both rear and side hardtop side windows come out, a feature that is only available on the power top. Many clients expect it to be much louder than the hard top and are pleasantly surprised. The Sky Power Top comes in at 78 decibels and 80 mph vs 2018 JK Wrangler hard top at 79 decibels.
It has lots of torque, 442 lb-ft at only 1400 rpms, which provides power to tow and excellent acceleration.  It's really fun to drive while achieving 30% better fuel economy at 21.6 per gallon, over that of a Hemi V8 with comparable performance. Considering the 37 inch tires, a 2 inch lift, and stock gearing you really do have it all in this Jeep.
This Jeep is designed to keep you safe and secure. The Wrangler offers available active safety and security features that continually monitor driving conditions and alert you to act when needed. Adaptive cruise with Stop and Go automatically adjusts your driving speed to maintain a preselected distance from the vehicle ahead.
Come for a test drive and while on the interstate set your speed and watch it work!  It's fully equipped with three sensitivity settings fully compatible with your technology comfort level. Lastly, this Jeep truly has your back while using sensors to alert you if you're too close to an obstacle or while backing up at low speeds when an object is detected. In case you do make an impact. a high-strength steel frame creates a rigid chassis and solid foundation to help maximize crash protection, while an advanced airbag system including side airbags, is ready to be deployed when needed.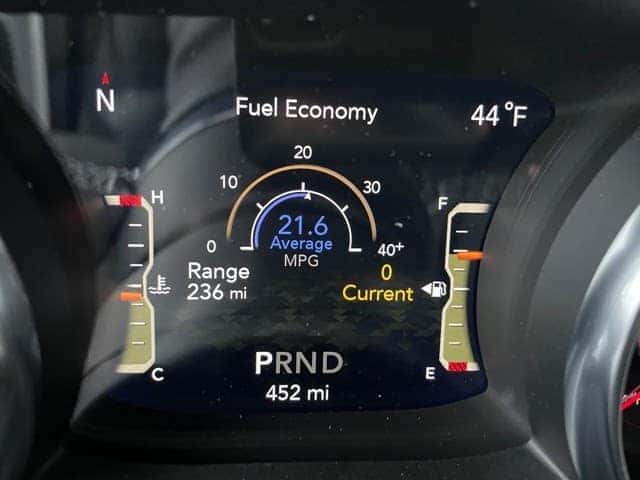 Integrated Off-Road Camera
Sometimes, it's the little things that are most charming and this camera is one of those things. While a reversing camera comes as standard, this front facing camera is all about getting the best perspective while you're focusing. 
Just like a reversing camera on the rear of modern vehicles, this Jeep Wrangler's front camera is a wide-angle lens that beams a live view to the 8.4 inch touch screen dashboard touchscreen. It's mounted in the center vane of the Jeep's grille, a black plastic nodule that blends in for the most part with the mesh.
Have Jeeps Wranglers pushed too far since 2001? We think not, and our customers tend to agree.  They want technology and connectivity all in one vehicle. 
Our customers tend to agree. Check out this quote from a loyal Cross Jeep enthusiast;
 "I really dig it. The ability to see the rain coming and close the top without stopping" -Ben 
Have questions? Give us a call or email us at https://www.crossjeepchrysler.com/. Curious about the other unique Wrangler models? Check out the Jeep Wrangler 4xe at our dealership. We can even help you learn all about the Jeep charging network at your favorite off-road trails!