2020 Jeep Gladiator Mojave Edition vs. Rubicon – A Tough Choice!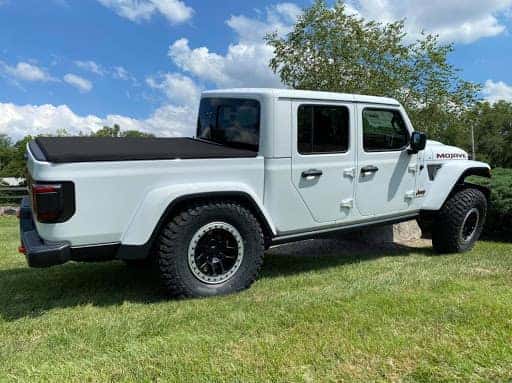 No question, I'm a serious Jeep guy. I enjoy driving them, meeting other Jeep enthusiasts, and of course, sharing the awesome Jeep lifestyle with our Cross customers! After 20 years in this business, I've driven nearly every Wrangler model and trim package 10 times over. The Rubicon has always been my staple, my go-to. Recently I decided to break that long-held pattern and try something different for a change – the all-new Jeep Gladiator Mojave Edition.
Ready to roll, I grabbed the keys to a 2020 model. Overall, I find this Gladiator Mojave model compares closely to the Rubicon in several ways. But it does showcase some cool differences I'd like to share.
Jeep® Gladiator Mojave Edition
Highlights/Cool Factor
Unique Hood Scoop
Orange Decals and Badging offer something new
Suspension is much firmer like the previous JK Model
Styling:
Performance hood featuring center scoop

Plastic front bumper with aluminum skid

High-clearance flares, similar to the Rubicon

17-inch black wheels with 33-inch all-terrain tires

First-ever Desert RatedJeep

Orange interior and exterior accents
Performance:
One-inch front suspension lift

FOX® 2.5-inch internal bypass shocks with external reservoirs

Rear locking differential that can be engaged in 4×4 high

DANA® wide front-and-rear axles (same asJeep Rubicon)
Rubicon boasts these, Gladiator doesn't:
Front locker

Electronic sway bar disconnect

RockTrac® transfer case
As soon as I started driving the Gladiator Mojave, I noticed several big differences when compared to the Rubicon. The perforated, leather-trimmed steering wheel is a nice upgrade and gives this Jeep a high-end, luxury feeling.
If you drive the Mojave on the streets, some key differences come to light. In the last couple years, the JL family of Jeep models has produced many complaints and concerns regarding steering and handling. Consumer complaints range from wandering, light steering feel, too much steering feedback over bumps and road transitions, and more. Jeep Gladiator Mojave steering shows a much firmer feel and resembles the handling of a sports car suspension.
Ultimately, Cross Jeep made some key upgrades before showcasing and driving the Mojave 2,000 miles. We swapped in 37-inch BF Goodrich® KM3 mud terrain tires wrapped around 17-inch Mopar® Performance Bead Lock wheels. We scrapped the plastic bumper for the Mopar® steel bumper and installed a Warn® winch with synthetic lines. In order to accommodate the larger 37-inch tires, we decided on an AEV® (American Expedition Vehicles) two-inch spacer lift, yet soon realized that wasn't a viable option. The AEV® lift utilizes a new front-shock mount, while the Mojave is designed to accommodate 2.5-inch internal bypass FOX® shocks. We gave the Gladiator a run on ourJeep test track and found the extra one-inch Mojave factory lift provided enough clearance for full-wheel travel without rubbing.
Based on my own experience, I think the Jeep Gladiator Mojave Edition is a great choice for experienced Jeep enthusiasts as well as anyone new to the Jeep lifestyle! If you are a driver looking for something new and different from Jeep, the Gladiator Mojave may be a great choice for you. Even better, it offers a lot of advantages at a price point similar to the Jeep Rubicon.
If you want to learn more about CrossJeep and all of our new and used Jeep models, be sure to visit us at CrossJeepChrysler.com. If we don't have what you're looking for, we will get it! We offer the most personalized sales and service in town. And for all you Jeep enthusiasts, find everything you need to know about the new Jeep Gladiator Mojave Edition at Jeep.com.
Let's Jeep!

Chris Madison
Cross Jeep General Manager